Greenfield Sober Living Home │ Sober House in Greenfield, Massachusetts
Our Greenfield, Massachusetts sober living house (pending-certification) offers you sober living in a co-ed household. This unique sober living home has two private areas, each with living space and a kitchen, one for each gender. The accommodations provide a quiet environment located in an urban neighborhood in North-Western Massachusetts.
Our Greenfield Sober Living Home has:
– gender-specific wings,
– moderate sized bedrooms,
– community kitchen and kitchenettes,
– laundry facilities, and
– ample off-street parking.
As with all Vanderburgh House sober living homes, our Greenfield sober house is maintained through our best quality of life standard, which follows our strict sober community model drive by encouragement and collaboration, supported by all housemates and House Managers.
Residents enjoy large bedrooms situated in gender-specific wings of this beautiful sober living home. The sober house offers ample off-street parking, laundry services, and a quiet homey environment. The community in the home is small but growing, led by supportive peers and house management. The recovery residence offers updated amenities and features, including modern kitchens and bathrooms, recreational areas, and quality features and finishes.
Rooms & Rates
All-inclusive sober living rent payments are due weekly or monthly and are not covered by insurance or subsidies. We require your first week rent plus a $200 prepaid rent deposit.
Gallery
Recovery Community
The recovery home community in the Greenfield Sober Living Home is strong and supportive of our group of men and women. This structured coed sober home offers a strong and resilient recovery community. The men and women in the sober house are committed to their recovery and building a better life for themselves individually and as a member of a recovery residence.
Operator Information - About Vanderburgh House
This sober house is operated by Vanderburgh House. Some Vanderburgh House sober living homes are independently owned and operated by chartered operators of the Vanderburgh House sober living system. If you are interested in starting your own sober living home, please visit Vanderburgh Communities for more information.
Greenfield, Massachusetts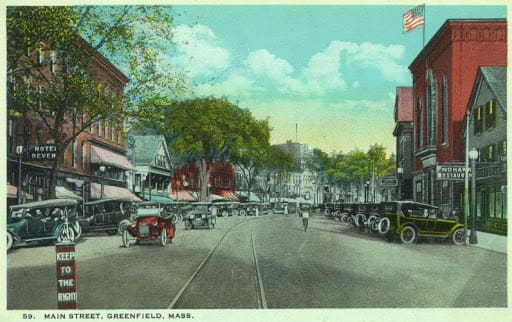 Greenfield, Massachusetts has a strong and resilient recovery community serving those in recovery of all ages and backgrounds, in addition to a strong sober living community. Massachusetts, especially central and western parts of the state, offers plenty of groups, especially A.A. groups, serving both men and women actively engaged in their recovery. The cities of Holyoke and Springfield Massachusetts are close with all that a major city has to offer its residents. Massachusetts communities are welcoming and supportive of those in recovery and sober living homes.